I've long been intrigued with the therapeutic value of foam rollers.  Yoga does a great job of stretching muscles, but does not necessarily work into deeper layers of musculature.  One study, among many with positive results, from the School of Human Kinetics and Recreation, Memorial University of Newfoundland, St John's, Canada indicates that foam rolling alleviates muscle fatigue and delayed onset soreness. I'd also been told anecdotally, from several fitness instructors and personal trainers, about their personal positive experience of increased range of motion from foam rolling after exercise.
The facts were adding up, so I purchased 2 foam rollers: a basic smooth surface high-density version and a PhysioPhit Foam Roller with trigger points. Perceiving the PhysioPhit as more akin to an ancient torture device, I babied myself by first working with the smooth roller. Hey, don't judge! It's like I tell my yoga students: "Find your undeachiever!" Let's face it, people push too hard and, well, I really should practice what I preach.
Taking it slowly with the smooth roller, I targeted the outer hip and thigh. This felt like a leg muscle lengthener, a gentle kneading. It targets a wide area – the entire width of outer leg. Rolling face up with it under my back also felt fairly gently, more Shiatsu than deep-tissue massage. I did try it in a seated position to roll out my hamstrings and calves, but thought it largely ineffective for those areas. I wasn't able to get enough downward pressure into the roller.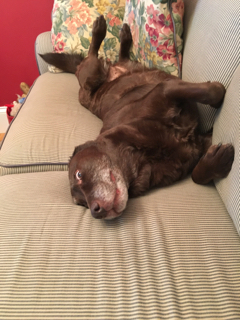 I was now ready for round two. Enter the PhysioFit. I again started with the outer hip and thigh. If I were writing this on paper, you would see my tear stains. My TFL (tensor fasciae latae) and quadriceps could barely take it. I wanted my mommy. Instead, I got a curious head tilt from my dog. Thanks for the support, Seabiscuit.
Next up, calves and hamstrings. From a seated position, I stretched my legs out over the PhysioPhit. Just by lightly pressing my legs down into the trigger points, I easily generated pressure deep into the muscles. I could have pressed down harder, but didn't want to worry my pup again.
In a conversation the next day with a personal trainer, I commented about how intense the PhyoPhit was. I couldn't believe it when she said it's only that intense when muscles and fascia are tight. What?! Excuse me? Some people can roll on that torture device and enjoy a pleasant massage? Well, that should be me, because I do yoga, a LOT of yoga. This led to a discussion on fascia and now I am committed to foam rolling.
Months later, it has gotten better. Initially, I was using both the smooth roller and PhysioPhit. Now, I exclusively use the PhysioPhit. I see results in less time with less effort. It has become an important recovery tool for after a workout, a yoga class, a run, or whenever my body is feeling a bit tense.