Category Archives:
pigeon
There is a new class sequence available focusing on arm balances.
It includes a sequence that prepares you for Galavasana.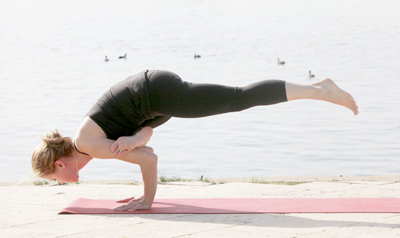 At the start of each class, I ask students if there is a pose or body part that they would like to work on. One of the most frequent requests is for hip openers. It's in the top 10 along with neck and shoulders.  Hmmm…all places we commonly carry stress.
The anatomy of the hip is complicated to say the least and there is a spectrum of physical reasons our hips tighten. The desk jockey's inactivity and the runner's repetitive muscle contractions are just a couple.
There are also emotional reasons that cause the hips to feel closed off. In yoga, the pelvis is often referred to as the body's 'junk drawer'. It's the perfect analogy.  In it, we stuff experiences and emotions that we don't know what else to do with.  From an energetic anatomy perspective, the pelvis contains our first and second chakras, energy centers.  The first chakra, muladhara, is located at the perineum and is associated with our root survival needs for nourishment and security.  The second, svadhisthana, is just a couple of inches above muladhara and is associated with our sexuality and how we communicate with others.  You can probably think of your own 'junk' related to these chakras that you have stashed in here.